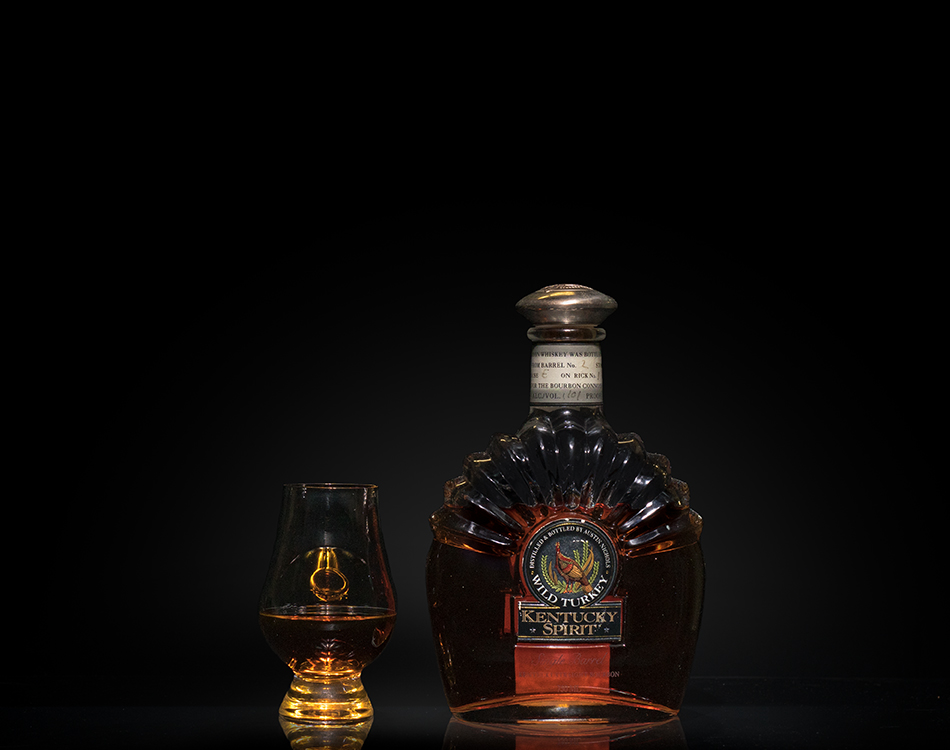 Wild Turkey Kentucky Spirit Single Barrel "Pewter Top"
In the mid 1800's, James and John Ripy arrived in Kentucky from Tyrone, Ireland, and settled along the Kentucky River. They christened the plot "Tyrone" next to a hill that would be later known as, Wild Turkey Hill. By 1873, the Ripys had a second distillery up and running producing the finest whiskies, and was even selected to represent Kentucky at the upcoming World's Fair Exposition. The Ripy Distillery managed to even survive prohibition, by continuing a moderate production that was sold by Austin Nichols, a wholesale grocery business. It was an executive at Austin Nichols who first came up with the brand name, Wild Turkey Bourbon, after a wild turkey hunt with friends. The executive, Thomas McCarthy, would bring samples of undiluted whiskey at the behest of his friends to bring more of "that wild turkey bourbon." It was around this time that the Austin Nichols & Company began to focus solely on fine wines and spirits in 1940. In 1942, the Wild Turkey Bourbon brand was solidified, and was produced using whiskey mostly from the Ripy Distillery. In 1949, Robert and Alvin Gould bought out the Ripys, and the Ripy/Gould Distillery would eventually be named the Boulevard Distillery. Austin Nichols would then purchase the Boulevard Distillery in 1971 to become their sole provider of Kentucky bourbon and calling it the Wild Turkey Distillery. In 1980, the distillery and Wild Turkey brand were purchased by Pernod Ricard. Later in 2009, the Campari Group acquired the distillery and the Wild Turkey brand from Pernod Ricard, and still own them today. Throughout all of the acquisitions since the first in 1949, Wild Turkey Bourbon has relatively remained the same thanks to their Master Distiller Jimmy Russell. Russell was taught his craft by one of the original Ripy distillers, Ernest W. Ripy, starting in 1954 when he joined the Boulevard Distillery. Today Jimmy and his son Eddie Russell, still run operations at the distillery.
This bottle, often referred to as the "Pewter Top", is a single barrel expression of the Wild Turkey 101 that was first released in the mid 1990's. During the first few years after its release, the cork was a pewter topped cork, which was later followed by a wooden topped cork in the early 2000's. Today, Kentucky Spirit is still a Wild Turkey offering and continues using the lighter wooden topped cork. This bottle was bottled in 1995.
Distiller :
Wild Turkey Distillery
Bottler :
Austin, Nichols Distilling Company
ABV :
101
Age :
NAS
Nose:

Brown sugar, oak funk, leather, cocoa.

Palate:

Caramel, dark chocolate, vanilla, baking spices, oak.

Finish:

Medium, baking spices, oak.