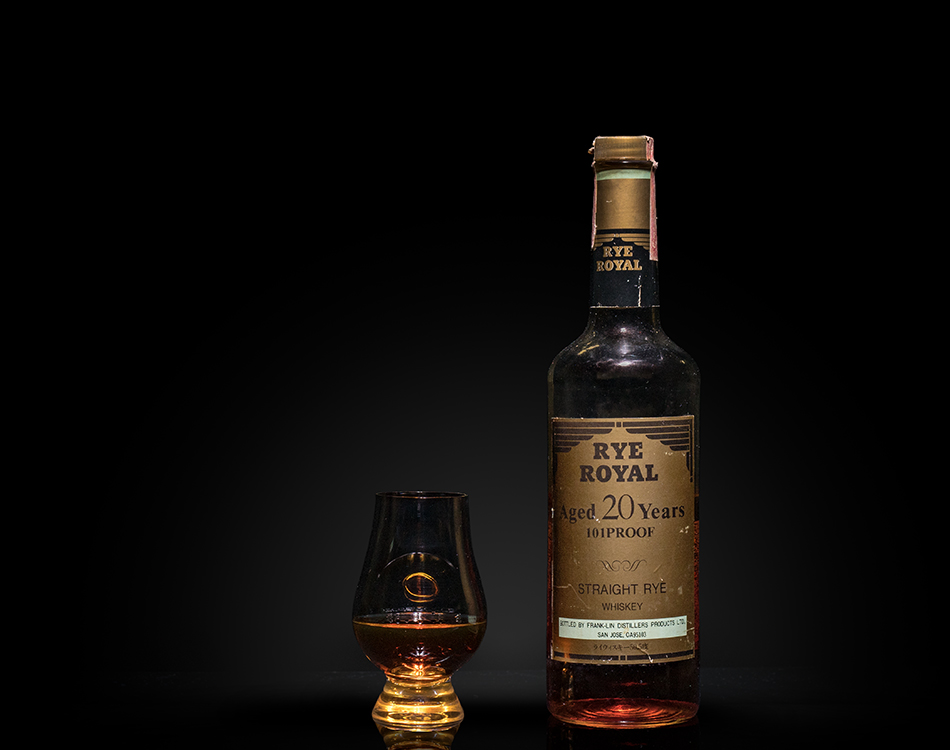 Rye Royal 20 Years
Rye Royal is a 20-year-old Pennsylvania Straight Rye Whiskey bottled in 1990 by Frank-Lin Distiller's for the Japanese market. However, there is little to no information that is available as to the source of this Pennsylvania Rye Whiskey. The best educated guess would be the Michter's Distillery near Schaefferstown, PA. Although, when this whiskey was distilled, which could have been as early as 1969, the Michter's Distillery was under another name: Pennco Distillers.
Pennco would actually be the 5th name for this distillery by that time, as its original construction stretches as far back as 1753 as the Shenk's Distillery. In 1861, the distillery was purchased by Abraham Bomberger, and thus became the Bomberger's Distillery until Prohibition forced it to close in 1919. Following the end of Prohibition, the distillery was re-opened and was bought and again sold several more times. In the 1930's, it became Penndale Distillery, only to be bought and sold again in the same year of 1942 and eventually becoming Kirk's Pure Rye Distillery in the early 1950's. It wouldn't be until 1955 when the distillery was eventually sold again and fell under the Pennco Distillers group. During this time, Pennco created the brand Michter's in honor of the previous owner Lou Forman and his sons Michael and Peter. Eventually Pennco went under in 1975 with a group of local business men purchasing the distillery with Lou Forman as President of the distillery thus promptly naming it, Micther's. Michter's Distillery lasted for 12 years before eventually being abandoned on Valentine's Day in 1990, leaving everything behind including 40,000 barrels of full whiskey. The distillery eventually fell into ruin and with some of the buildings even being demolished. Since Michter's property was abandoned including its intellectual property, Chatham Imports, a liquor importer and producer from New York, trademarked the name Michter's on March 21, 1997.
Today, Michter's whiskey is sourced from other Kentucky distilleries, most likely Heaven Hill, Barton and Brown-Forman, but still being marketed as "America's oldest distillery" without any of the actual Pennsylvania whiskey that started it all.
Distiller :
Pennco Distillery
Bottler :
Frank-Lin Distillers
ABV :
101
Age :
20 Years
Nose:

Caramel, clove, baking spice, vanilla taffy, fruit brandy.

Palate:

Warm, dark fruits, toffee, vanilla foam, cinnamon.

Finish:

Quick and dry, light baking spices, caramel, brandied cherries.